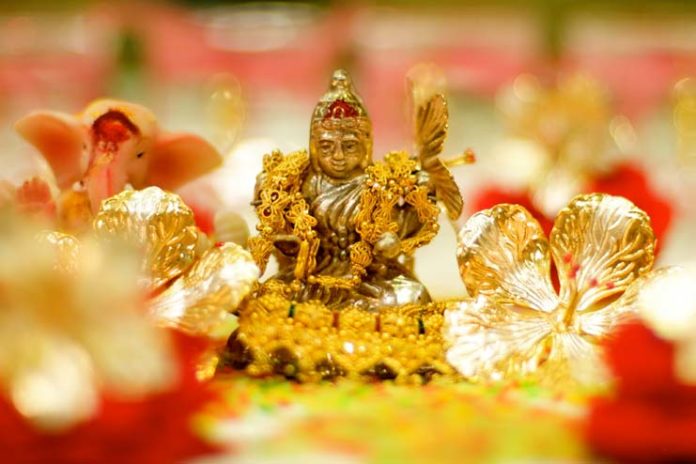 Akshaya Tritiya, also known as "Akha Teej", is traditionally the birthday of Lord Parasurama, the sixth incarnation of Lord Vishnu. People conduct special Pujas on this day, bathe in holy rivers and worship Lord Ganesha and Devi Mahalakshmi on this day. Akshaya Tritiya falls on the third day of the bright half of Vaishakh month (April-May), when the Sun and Moon are in exaltation; they are simultaneously at their peak of brightness, which happens only once every year. The word "Akshaya" means imperishable or eternal, that which never diminishes. Initiations made or valuables bought on this day are considered to bring success or good fortune.
The day also marks the beginning of the "SatyaYug" or the Golden Age, the first of the four Yugas. In the Puranas, there is a story that says that on this day of Akshay Tritiya, Veda Vyasa along with Ganesha started writing the great epic Mahabharata. Ganga Devi or Mother Ganges also descended on earth on this day. According to another legend, during the time of the Mahabhrata, when the Pandavas were in exile, Lord Krishna, on this day, presented them an 'Akshaya Patra,' a bowl which would never go empty and produce an unlimited supply of food on demand.
The most famous of the Akshaya Tritiya stories is the legend of Lord Krishna and Sudama, his poor Brahmin childhood friend. On this day, Sudama came over to Krishna's palace to request him for some financial help. As a gift for his friend, Sudama had nothing more than a handful of beaten rice or 'poha'. He was utterly ashamed to give it to Krishna, but Krishna took the pouch of 'poha' from him and relished having it. Krishna followed the principle of 'Atithi Devo Bhava' or 'the guest is like God' and treated Sudama like a king. His poor friend was so overwhelmed by the warmth and hospitality shown by Krishna that he could not ask for the financial favor and came back home empty handed. When he reached his place, he saw his old hut was transformed into a palace. He found his family dressed in royal attire and everything around was new and expensive. Sudama knew that it was a boon from Krishna, who blessed him with more than the wealth he actually intended to ask for. Therefore, Akshaya Tritiya is associated with material gains and wealth acquisition.
It was believed that on this day Goddess Annapoorna devi was born. Kubera received his wealth and position as custodian of wealth and property from Goddess Lakshmi on this day, by praying to Lord Shiva at Shivapuram. In Odisha, on Akshay Tritiya day, farmers start ploughing their land and construction of chariots for Rath Yatra begins at Puri. In Bengal, on the day of the Akshay Tritiya, "HalKhata" a ceremony to start the new audit book is performed with the worship of Ganesha and goddess Lakshmi.
Jainism considers Akshaya Tritiiya to be a holy and supremely auspicious day. It is associated with Lord Adinatha, also known as Rishabhadeva, first of the twenty-four Tirthankaras. On this day people who observe the year-long alternative day fasting known as Varshi-tap finish their Tapasya by doing parana by drinking sugarcane juice.
Being Yugadi Tithi, it is most beneficial for performing meritorious (Punya Karma) deeds such as recitations (Japa), penance (Tapa), donations (Dana) ritual bathing (Snaana), sacrifices (Havan), burnt oblations to fire (Hooma).
Many luminaries were born during this period: Basaveshwara born on May 4, Ramanujacharya and Adi Shankaracharya on May 6, Swami Chinmayananda on May 8 and Lord Buddha on May 16.
It is to be remembered that buying gold or anything like that is not the way of celebrating Akshaya Tritiya. If you want to purchase gold or any other items, you have to purchase as per your capacity. If you purchase it using credit cards or loans, you have to remember that the akshaya will be happening for your loans and credits and thus you may become a debtor. So out of enthusiasm do not indulge in excessive purchases which are out of your reach. Celebrate this day by donating food or clothes to the poor, which will definitely make the recipient happy and in return that happiness will become akshaya for you.
By Premji